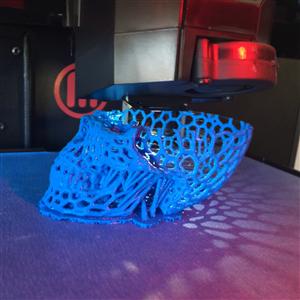 We now have a 3D printer for students and teachers to use! If you've never done any 3D modeling before, try tinkercad.com - it's a web-based app that lets you get started creating fast. Once you're ready for the next level try SketchUp, 123D Design, and Blender, which are all found in the Software Center (accessible from any school computer). You can also access and print the huge about of things others have created by going to thingiverse.com. Whether you create it yourself or download it, make sure your file is in .stl format and bring it to the Media Center on a USB drive. Mr. Brush will help you prepare the file for printing! Prints are free for things you design yourself and cost $1 per hour of printing someone else's design. Got more questions? Come ask!
Our library sign-up sheet is now on a Google document to make it easier for you to see availability and sign up!
New Teachers… When you have a moment, please come visit us in the Media Center. We will show you available resources and let you know ways we can help out.
New Books
We received book donations at the end of the year and over the summer. Please pass on to your students that those are ready to check out and enjoy.
Also, we are putting together a book order, so please let me know if you have a book you would like added to the list. Also, ask students to come by the Media Center with any suggestions of books to add to the order.