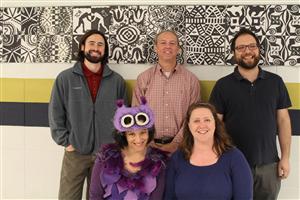 Art, Band, Chorus, Dance, and Drama
Fine Arts Teachers:
Nerina Patane
Aleisa Baker
Benjamin Clark
Ryan Ledwig
James Kirkpatrick-not pictured
Elizabeth Terry-not pictured
Mary Labianca-not pictured
Check out the Art Department's Latest Projects!
Visit Artsonia to view TC Roberson's art students original work.
Ms. Patane and Mr. Lancaster post slideshows of their students' best work. Artwork involves various mediums, styles, and themes.
Artwork from beginning students to AP levels is displayed. On artsonia.com you can also post comments about your favorites.